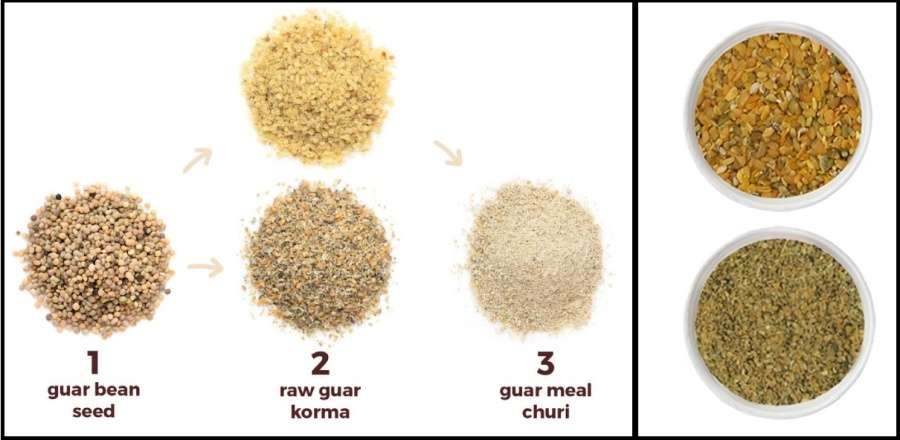 Guar Meal a cattle feed. Guar meal is a highest protein containing animal feed in its group; it is having up to 52% of protein with a digesting content. During the guar split manufacturing process, husk and germ are obtained. These are used as a valuable cattle feed as they are rich in protein.
Guar Meal is a by-product after processing the Guar Seed. That is, Guar gum is extracted from the guar seed Cyamopsis Tetragonoloba of leguminous plant. Guar Meal typically comes in different forms: a Guar Meal Churi, which is in powder form and Guar Meal Korma in granular form.
Guar Meal is rich in proteins and carbohydrates, and is a 100 percent natural agricultural product without the addition of any chemicals or preservatives. Processed guar meal can be used either in conjunction with other feed stuffs or by itself, as it is a complete nutritional feed.
Application
Guar Korma (Granular Form) Protein 48% – 52% for Cattle Feed
Roasted Guar Meal
/ Roasted Korma
Highest Protien – Animal Feed with large diagestible content without any chemical additives or preservatives.
Application
Guar Roasted Korma (Granular Form) Protein 57% – 62% for cattle feed.
Guar CHURI Mainly constitutes HULL part of Guar Seed. It is a rich source of protein, dietary fibre and energy for Livestock feed. The low lignin content makes it readily fermented in the rumen resulting in its high digestibility in Ruminants. The roughage content of Guar Churi (GC-Pro) is vital consideration for designing dairy nutrition programs.
| Parameter | Non Roasted Korma | Roasted Korma | Guar Churi |
| --- | --- | --- | --- |
| Moisture | Max 10.00 % | Max 6.00% | Max 8% |
| Ash | Max 5.00% | Max 3.00% | Max 6% |
| Protein | 48% – 52% | 57.00% – 62.00% | 38% – 42% |
| Fat | Min 6.00 % | Min 6.00% | Min 6% |
| Fiber | Max 8.00% | Max 7.00% | Max 8% |
| Silica | Max 1.00% | Max 1.00% | Max 1% |