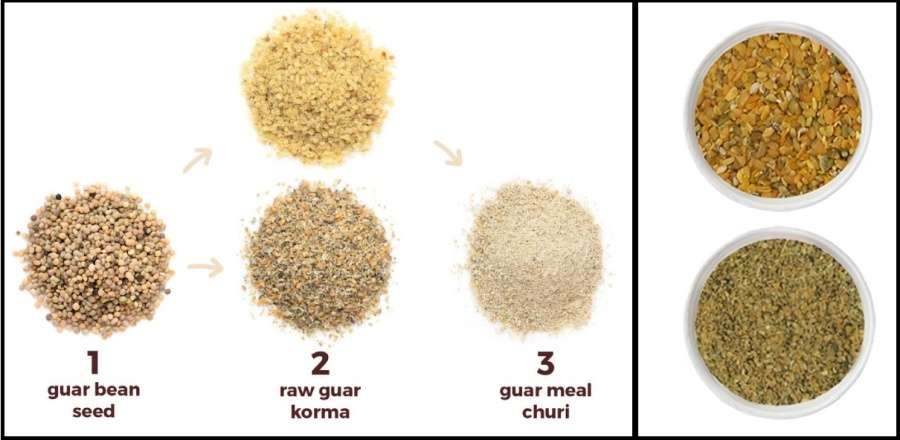 The animal feed industry is seeing an increase in demand for guar meal korma, a high-protein feed ingredient. Guar Meal Korma is a byproduct of processing guar seeds. It is especially appropriate for feed formulations such as pork products, poultry, and cattle. Because guar meal korma is high in fiber, protein, and carbs, it is considered to be an affordable and wholesome substitute for other feed ingredients. 
Guar meal korma has about:
Protein:

45%

Carbohydrates:

40%

Fat:

4%

Fiber:

8%

Moisture:

8%
It also includes vitamins, minerals, and vital amino acids. Depending on the type of guar seed and the conditions of processing, the nutritional makeup of guar meal korma can change.
Major Applications of
Guar Gum Meal Korma:
Pet Food:

Guar Meal Korma is highly used in dry pet food, wet pet food, and treaties to provide a high source of protein and fiber.

 

Cattle Feed:

Especially in beef and dairy cattle feed, guar meal korma is an excellent source of protein for cattle.

Poultry(Chicken) Feed:

To increase feed efficiency and supply necessary amino acids, guar meal korma is added to chicken feed.

Fish Feed:

Guar Meal Korma is widely used in various fish feed formulations, offering several benefits for fish nutrition and overall health.

Swine(Pig) Feed:

To improve growth performance and carcass quality, guar meal korma is also added to swine feed.
Benefits of
Guar Meal Korma:
The following are some advantages of guar meal korma for animal feed:
High Protein Content:

Protein is necessary for animal growth, maintenance, and reproduction. Guar meal korma is a rich source of protein.

Appetizing:

Because guar meal korma has a nice flavor and aroma, animals enjoy eating it.

Digestibility:

Animals can effectively absorb the nutrients in guar meal korma due to its excellent digestibility.

Cost-effectiveness:

When compared to other protein sources, guar meal korma is a reasonably priced feed item.
The species, age, and stage of production of the animal all influence how much guar meal korma is added to animal feed. In general, approximately, 10–20% of cattle feed, 5–10% of poultry feed, and 5–15% of swine feed can contain guar meal korma.
Additional tips to keep in mind while dealing with
Guar Meal Korma:
To keep the guar meal korma fresh and avoid spoiling, store it in a cool, dry location.

For optimal and even distribution, guar meal korma and other feed additives should be well combined.

When adding guar meal korma to an animal's diet, keep an eye on their performance and overall health.

To find out how much guar meal korma to include in your animal feed application, speak with an animal nutritionist.
Guar Gum Meal Korma – The best solution to unleash the full potential of your animal feed.